Monday, 22. August 2011
this was peacecamp 2011 - Anne-Sophie Rauch, Austrian delegation

I really don't know what to write. It's so hard to put those amazing days into words.
The peacecamp has always its own spirit and there is always the great feeling of being connected to each other. You can't describe it to someone who has not made this experience. After the peacecamp I just talked and I'm still talking about the peacecamp, getting on everybody's nerves with my peacecamp stories.
The peacecamp started at the airport and ended there. But between those days many, many, many things happened. At first everyone was a bit shy but over the next days we got to know each other and each others culture. I really love all of the culture evenings because it is a great ability to learn about other cultures. I'm singing the songs I've learned all the time and I'm still able to dance the dances we learned.
What I really liked this year was the history session because it was well organised by Markus and Ilan. Thank you to them :) I'm also a fan of the large group because I think it's important for everyone to say what he or she thinks.
But the most important thing is that we all found out that the others are not that different. We are all teenagers with the same problems and hopes and dreams.
Maybe this camp helped the Israeli and the Arabs to find a way to live together. Because I believe that everyone is able to change the world a little bit and together even more.
Thank you to everyone who has participated: teachers, students and artists And above all thank you to Evelyn and Ronny who organised the whole camp for nearly 10 years and who were always there for us.
Thank you.
Anne-Sophie Rauch=
0 comments | Comment
Sunday, 21. August 2011
PEACE CHILD ISRAEL
Dear all,
This is my wish, this year. (Next year it may be different)
Every time PCI gives a show away as a freebie to schools it costs us $3,000 (sound/light, transportation, staff). So far the line-up is for 4 performances:
500 ARAB youngsters will see the show in SHFAR-AM in September.
500 JEWISH youngsters will see the show in NETANYA in November.
We have findings from 4 different research agencies that seeing the play, and the modeling of the young leaders DOES change attitudes - it was our only real "raison d'etre". (I am attaching a PDF of the most recent executive summary in English, from 2010)
We are still missing some of the money to make this happen ; we could do even MORE with more help from your friends.
"How to contribute: www.mideastweb.org
Sincerely,
Melisse a.k.a. Lisi
P.S. Today I am 58 years old
www.mideastweb.org
If you always do
what you always did
you'll always get
what you always got"
Check out:
www.mideastweb.org/peacechild
0 comments | Comment
Thursday, 11. August 2011
this was peacecamp 2011 - Sámuel Kovács, Hungarian delegation

This was Peacecamp 2011
When my teacher told me, that I can go to the Peacecamp, at first I didn't understand why I was chosen, because I found my english not good enough, actually I've been learning english only for 2 years, so I was a bit afraid it. Nevertheless I was of course very happy to go.
When I got of the bus I feel a bit alone and I didn't know, what will be my partners like.
Honestly I have had some prejudices Jews and Arabs before the camp, but some days later I found out that I have no reason for that. All people in the camp were very friendy, helpful and tolerant.
At first I supposed that we can't solve the ancient problems between the Jews and Arabs, but when we spend some days there, I found out that these people really want to find a solution this situation, but I didn't dare always express my opinion in the large group.
I found the Jews history very interesting, so I've started to deal whit it.
I found most of programmes very intresting, like yoga and the evenings, although I found a bit unneccecery some programmes, for instance mandela, and we should have hiked more in the beautiful landscape. Some night was a bit disturbing, when one tried to sleep, and couldn't because of the loud noise. I think we had enough time to get to know one another.
Overall I think it was great 11 days for everyone. We made great friends. If I could, I'd go again.
0 comments | Comment
Monday, 8. August 2011
Austrian-Hungarian reunion in Budapoest, July 2011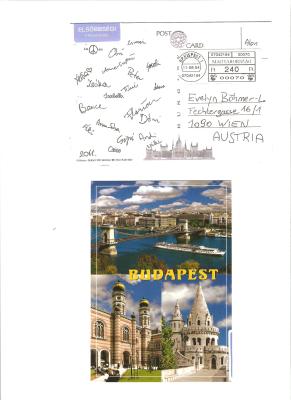 0 comments | Comment
Guben/Gubin - a divided city, half Germany, half Poland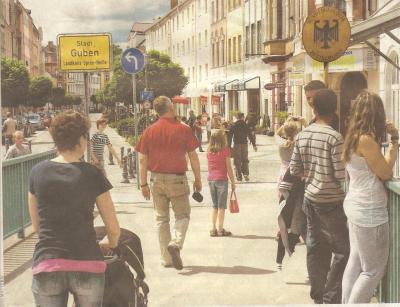 between both halfs - an invisible border
0 comments | Comment