Meet Friederike Scharf - Historian and Coordinator of the Austrian group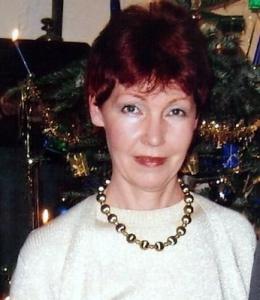 Hi,
My name is Friederike SCHARF. I am teaching French and History at the Akademisches Gymnasium since 1979.
I have two sons, 18 and 21 years old. I am interested in arts, theater and movie. I like to have walks with my dog and to meet friends. I like meeting peoples from other cultures, so I have Iranian, Israeli, French and Turkish friends.
I was really impressed when I heard of the Peace camps initiative from Evelyn Böhmer- Laufer. That´s why I am very happy to have the possibility to participate this year again with some pupils, as I did last year already.
0 comments | Comment
Meet Markus Priller who carries the past into the present to safeguard a peaceful future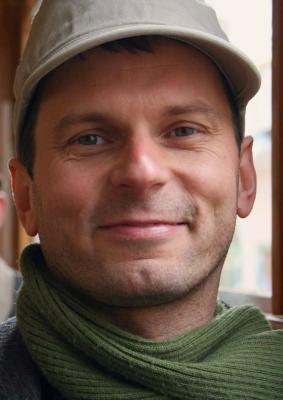 My name is Markus Priller and this is my first time participating in the peace camp. I was born in Switzerland and grew up in South Tirol, Italy, where after several decades of struggle, three different language groups now live together peacfully. I studied history and film science, focusing my studies on the National Socialism in Austria and Europe. After a short career as a scientist I realised that I prefer working with people and began conducting peace projects in both Austria and abroad. I am very much looking forward to meeting you all and being part of the great peace camp experience.
0 comments | Comment
Meet Ilan - a one-eyed visionary of peace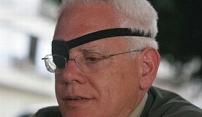 Dear Peace Campers,
My name is Ilan Baruch and I am a personal friend of Evelyn and Ronny. Born in Israel I am a first generation. My parents arrived in Jerusalem after fleeing Nazi Germany. I was born a year after the birth of the State of Israel. In my military service I was a tank platoon commander. I was involved in combat and took injury. After completing my university studies I joined the Ministry of Foreign Affairs, where I served for more than 36 years. I recently resigned, after serving as Ambassador of Israel in South Africa, Zimbabwe, Namibia and Botswana. In the course of my diplomatic service I was extensively involved with the Oslo Peace Process and other aspects of Peace Initiatives in the Middle East. I am married, father to two daughters and a son, grandfather to a three year old girl.
0 comments | Comment
Meet Walter - creativity-and-fun expert
My name is Walter Mathes, my wife Jella is born in Vienna, her parents Gisela and Peter in germany formerly known as GDR, my mother Margarethe is born in Austria two years before it became a part of Nazi germany, my father Michael - he is a member of the german- speaking minority in Transsylvania - was born in a region of Romania that was once in the Austrian-Hungarian empire and afterwards for some years hungarian then romanian; I was born in Upper Austria – exactly in the middle between Munich and Vienna - I live in Vienna with my wife and our daughter Mareta (15) and our son Ben (8). I work as comics- artist, actor and art-therapist wherever, whenever you want. It's my second PEACECAMP and I'm looking foreward to meet all of you to laugh and play and cook and eat and cry together
0 comments | Comment
Filming4peace: Gerald, Rajmi, Florian, Dori, Bence
Hallo, I am Gerald Muthsam and this is my fifth peacecamp. At the previous peacecamps I led Outdoor- , Video- and Photoworkshops. This time I will do a Videodocumentation together with a small team of former peacecamp-participants.
I am looking forward to meeting you and am sure that it will again be a wonderful experience.
See you soon
Gerald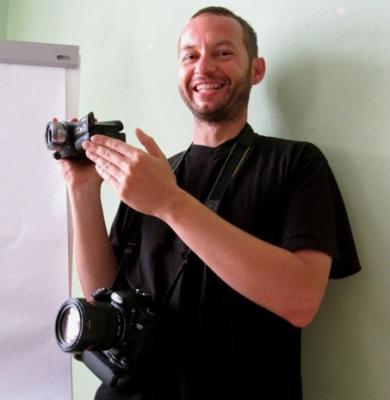 Hallo!
Mein Name ist Gerald Muthsam. Heuer bin ich das fünfte Mal beim Peacecamp dabei. Bei den ersten drei Peacecamps habe ich Outdoor-, Video- und Fotoworkshops gehalten. Dieses Jahr werde ich mit einem kleinen Team eine Videodokumentation vom Peacecamp drehen.
Ich freue mich auf euer Kommen und bin mir sicher, dass es wieder ein großartiges Erlebnis werden wird.
Bis bald,
Gerald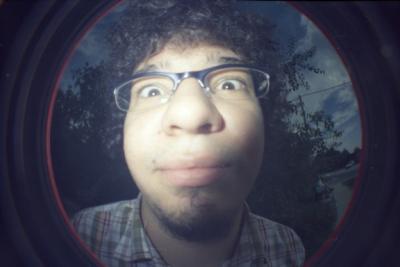 Hey, I am Rajmund Bakonyi, 20 years old from Hungary, but most of the year studying in Scotland. As most of our team I've participated in
2009 and went back for a quick visit last year too. Having spent such a great time at the peacecamp, I've decided to come back as many times as I can. As a media student I couldn't resist the idea of helping out Gerald with his documentary. I will pack up all my modern, old, and even older cameras to capture all the happenings.
Can't wait to see old and new faces!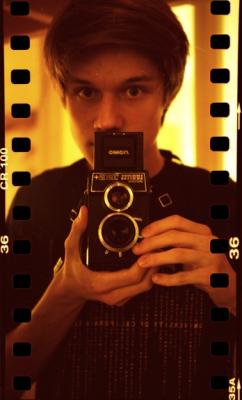 Hi there,
I'm Florian Simon Linke, 18 years old and I've already participated in the peacecamp of 2009 and visited last year's camp as well. I still love the idea of such a camp and I still want to support it. That's why my Hungarian friends and I want to help Gerald in order to create a documentary. We'll bring all the cameras we can find (digital as well as analog), document the whole camp and edit a movie for you to take home.
I'm really looking forward to taking part in yet another camp.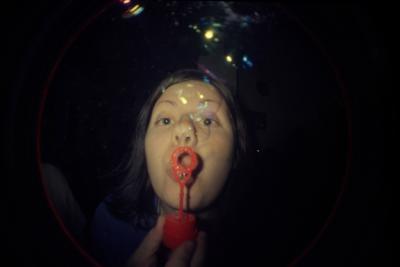 Hi everyone, I am Dóri Kótai, 21 years old, originally from Budapest, studying Film&Media and Spanish in Scotland at the moment. I'm interested in films, both watching and making them and love getting to know other cultures and languages.
This year I'll be one of "Gerald's little helpers" and we're going to make an awesome documentary about you guys, as well as tons of pictures. This one will be my 3rd peacecamp. I guess it makes it clear how much I love and care about this wonderful project. :) I'm really looking forward to meeting you all in July!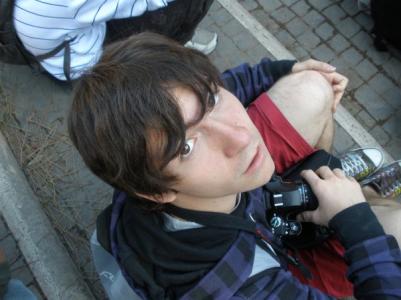 Hi there, I'm Bence Ábrahám, and I'm 18 years old. I still go to high school where I learn some materials in Italian. I am looking forward to meeting you, and sure that we will make the most epic documentary ever.
0 comments | Comment